Skills/Compétences Canada
promotes careers in the skilled trades and technology industries primarily through our yearly Skills Canada National Competition, as well as through provincial and territorial competitions hosted by our member organizations. These competitions are free and open to the public, who are invited to try hands-on skilled trades and technology activities at our many Try-a-Trade@ and Technology stations. Every two years, the winners of the Skills/Compétences Canada National Competition go on to compete at the WorldSkills Competition, where their skills are put to the test at an international level against the best in the world.
Congratulations to the winners of the 2017 Skills Canada National Competition! This is the only national, multi-trade and technology competition for students and apprentices in the country.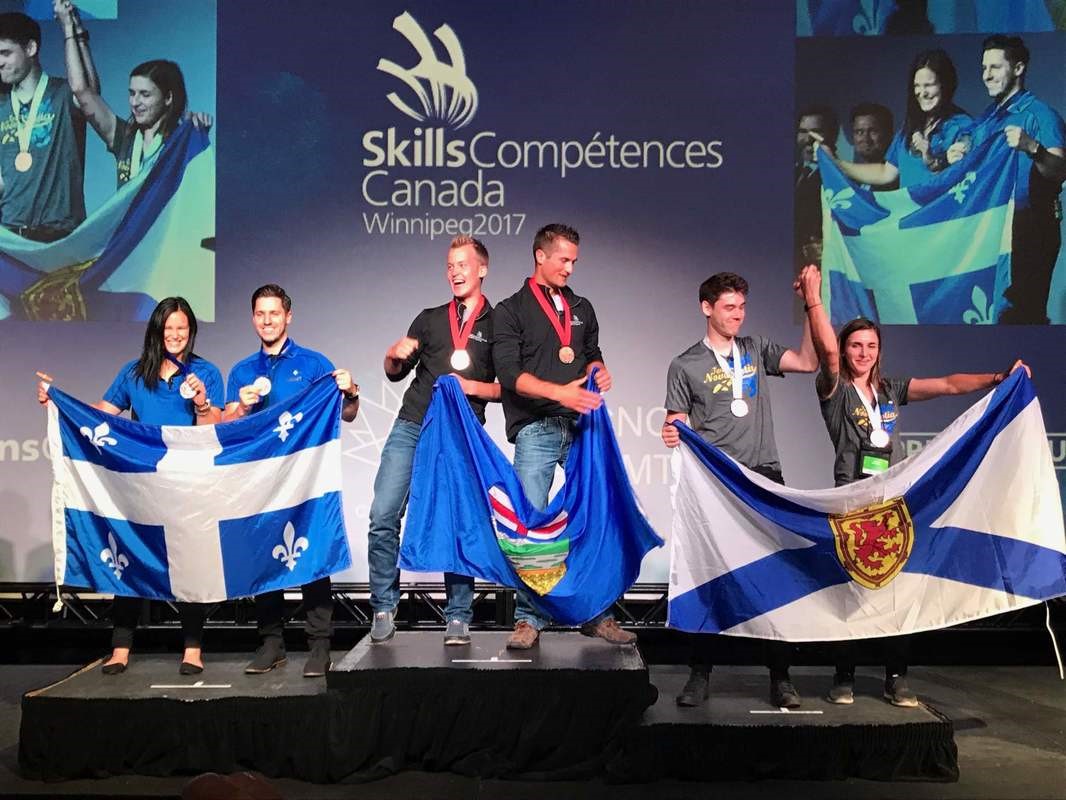 Gold Winners — Alberta's Adrian Sinke & Raymond de Kok
Silver Winners — Quebec's Marie-Ève Brodeur & Vincent Palchat
Bronze Winners — Nova Scotia's Diana Davidson & Calum MacRae
For more information about skilled trade and technology competitions, select a competition below:
Province
Date
Location
Alberta
May 10 – 11, 2017
Edmonton EXPO Centre, in Edmonton, AB
British Columbia
April 5, 2017
Fraser Valley Trade and Exhibition Centre (TradeX), in Abbotsford
Manitoba
April 13, 2017
Red River College (Notre Dame and The Roblin Centre campuses)
New Brunswick
Between January and April.
For exact dates and locations, click here.
Newfoundland & Labrador
April 7, 2017
College of the North Atlantic- Prince Philip Drive Campus
Nova Scotia
March 30th
March 31st
April 7th
– NSCC Strait Area Campus
– NSCC Akerley Campus
– NSCC Waterfront Campus
Ontario
May 1 – 3, 2017
Toronto Congress Centre, 650 Dixon Rd, Toronto, ON M9W 1J1 http://www.skillsontario.com/
PEI
TBD
TBD
Quebec
TBD
TBD
Saskatchewan
April 6 & 7, 2017
CNH Training Centre – Saskatoon,
230 Marquis Drive, Saskatoon, SK
Saskatchewan Polytechnic – Saskatoon Campus,
1130 Idylwyld Dr N, Saskatoon, SK
Territory
Date
Location
Northwest Territories
May 2, 2017
Ecole Sir John Franklin High School, Akaitcho Trades and Technical Centre, Ecole St. Patrick High School, and the Kimberlite Career & Technical Centre
Yukon
TBD
TBD
Nunavut
April 8-9, 2017
Inuksuk Highschool, in Iqaluit
City TV coverage of the NSTTW launch was hosted at Red River College and it includes an interview with SCC president John Oates as well as commentary from visiting students and the City TV reporter doing a few of the Try-A-Trade and Technology activities.
https://www.youtube.com/watch?v=Tho_VE95jNI
CTV Morning Live interview with HGTV's Sherry Holmes, who spoke at the launch and participated in the on-stage challenge, as well as several Try-A-Trade and Technology activities (following brief advertisement):