PUBLICATIONS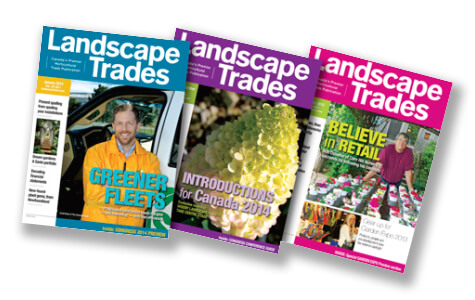 Landscape Trades – https://landscapetrades.com/magazine
Stay informed on the industry with Canada's leading horticultural magazine. Editorial includes special focus issues on retail, new products, new plants, snow and ice and an exclusive product source directory. Published nine times per year, Landscape Trades features business information for contractors, growers, retailers and many other sectors.

Landscape Ontario Magazine – https://horttrades.com/landscape-ontario-magazine-online
Landscape Ontario magazine is the voice of Landscape Ontario Horticultural Trades Association – a people magazine for a thriving organization with intense member involvement. Landscape Ontario is also a timely business magazine, addressing specific green industry issues with authority.
Landscape Ontario contains industry news, association news, industry issue features, profiles, event announcements, extension bulletins and more.
---
NEWS & FEATURED ARTICLES
AgScape Recognizes Teacher, Jake Verrips, as a Leader in Agriculture Education
Students in Jack Verrips' class have the unique opportunity to learn about agriculture in the school's greenhouse and learn about animal health and welfare with live animals.
---
Free Pre-Apprenticeship Program for Women
Humber College is offering a FREE Pre-Apprenticeship Program for Women that begins in Fall 2020! Please share this opportunity with all who may be interested including recent secondary & post-secondary graduates! Click on the dates below to register for an online information session to learn more.
FREE Pre-Apprenticeship Program for Women
---
Nov 7, 2019 / landscapetrades.com
Alan White, operator of Burlington, Ont.-based Turf Systems, has always been a passionate idea guy. His commitment to elevating the landscape industry has led him to volunteer extensively with Landscape Ontario and CNLA, where he currently chairs its Climate Adaptation Committee.
---
July 31, 2018 /TheGuardian/
Weeding, writing and arithmetic… why green fingers are good for our children.
Schools should teach pupils gardening skills to instill a passion for the environment in future generations, says horticultural chief.
---
THUNDER BAY, ON , July 18, 2018 /CNW/
Government of Canada connects over 3,700 students to green jobs.  Students to gain meaningful work experience in parks and other natural settings across Canada.
Building a strong middle class means giving Canada's youth the tools they need to find and keep good jobs, including in the green jobs sector, with employers that help reduce the consumption of energy and raw materials, limit greenhouse gas emissions, minimize waste and pollution and protect and restore ecosystems. READ MORE
---
July 14, 2018
Landscape Ontario and Come Alive Outside are pleased to announce the addition of Lissa Schoot Uiterkamp as Education and Youth Engagement Coordinator. Lissa's main focus is to promote the landscape and horticulture profession to youth through hands-on experiences, while also engaging and informing the education community on the many career paths available in the profession. Lissa helps to run the Come Alive Outside Green Street Challenge, hosted by several communities across the province, and the Come Alive Outside Design Challenge — an event that sees students and teachers from various levels team up with landscape professionals to design and build engaging outdoor learning classrooms at schools or child care facilities. READ MORE